CONFERENCES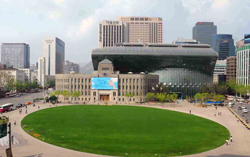 The 12th International Conference on Concrete Block Pavement (ICCBP 2018) will take place from 16 to 19 October 2018 in Seoul, Korea. It will be sponsored by the Metropolitan Government of Seoul. The conference venue, call for abstracts, programme and registration are available at http://www.iccbp2018.org
Conference collaborators include the Korean Society of Road Engineers, as well as the Korean Institute of Civil Engineering and Building Technology, Korea Specialty Contractors Association, Korean Interlocking Block Cooperative, Chung-Ang University, Myongji University and the Federation of Korea Concrete Industry Cooperatives. This is the first in the series of international conference to be sponsored by a major municipal government. The conference combines the themes of innovation, safety, environmental enhancement from concrete block paving that ultimately serves people.
This international conference is part of a long-term series of events to discuss and promote technical and scientific progress with recent developments and issues in the design and construction of block pavements worldwide. Participation in the conference will provide a common platform for decision makers, managers, maintenance engineers, practitioners and researchers to share their international experience in block pavement design and construction. Contributions from specialists from all over the world are invited. In addition to presentation of papers by authors, pre-conference workshops and technical tours are anticipated, as well an exhibition of industry suppliers.
PREVIOUS CONFERENCES
1980 – Newcastle, England
1984 – Delft, The Netherlands
1986 – Melbourne, Australia (workshop)
1988 – Rome, Italy
1992 – Auckland, New Zealand
1994 – Oslo, Norway (workshop)
1996 – Tel Aviv, Israel
1998 – Cartagena, Colombia (workshop)
2000 – Tokyo, Japan
2003 – Sun City, South Africa
2006 – San Francisco, California USA
2009 – Buenos Aires, Argentina
2012 – Shanghai, China
2015 – Dresden, Germany
2018 – Seoul, South Korea
Since the first International Conference held in Newcastle, UK in 1980, these important events have been held regularly - and currently every 3 years - in locations around the world selected by SEPT members to ensure the widest dissemination of current thinking. All these conferences embrace practical engineering combined with the most current research and have the central aim of developing concrete block pavement technology.
The 11th International Conference on Concrete Block Pavement, organized by FGSV (German Road and Transportation Research Association) and Technische Universität Dresden, Institute of Pavement Engineering, took place in Dresden, Germany from 9th to 11th September 2015. With over 400 attendees and exhibitors, the conference affirmed Germany as global leader with the highest per capita production rendering annual sales of 120 to 150 million m2. Of the 37 technical papers from 15 countries presented over 2½ days, 13 were on permeable concrete block concrete pavements and several more were on sustainable aspects. The conference included 30 posters on additional technical subjects, all prominently displayed with 55 exhibitors. The conference technical papers will be posted on www.sept.org in due course. Conference information is available on www.iccbp.org.
REGISTER
If you're interested in attending our next conference, please fill in the form below and we'll be in touch. (We promise not to sell or spam your contact information)